The Honourable Justice Dulcie Ethel Adunola Oguntoye, OFR (Nee King) was born on May 29, 1923 in Gravesend, Kent, England. She was born to the family of Mr. and Mrs Walter and Ethel King. She is the first of three children. Three years after her birth, her parents gave birth to a set of twin girls. She started reading at the age of four, a remarkable feat in those days. Justice Oguntoye started school at the age of five at Wrotham road school near Kent. She also attended Rosherville Church School from 1932 to 1934 and this was where she developed her love for reading. She was an avid reader and a great Poet. Justice Oguntoye was so gifted that she started playing the piano at the age of ten. She continued her education at Gravesend County School for Girls in Kent where she sat for School Certificate Examination at the age of sixteen and passed. By this accomplishment, she earned a handshake from her father for the first time. Her first full time job was as a junior officer at Gravesend Electricity Department and shortly after she started work, the 2nd World War began. Justice Oguntoye continued in different employment positions until 1942 and at the age of nineteen, when she was drafted and joined the Women Auxiliary Air Force (WAAF) to defend her country. The WAAF was later merged into the Royal Air Force 'RAF'.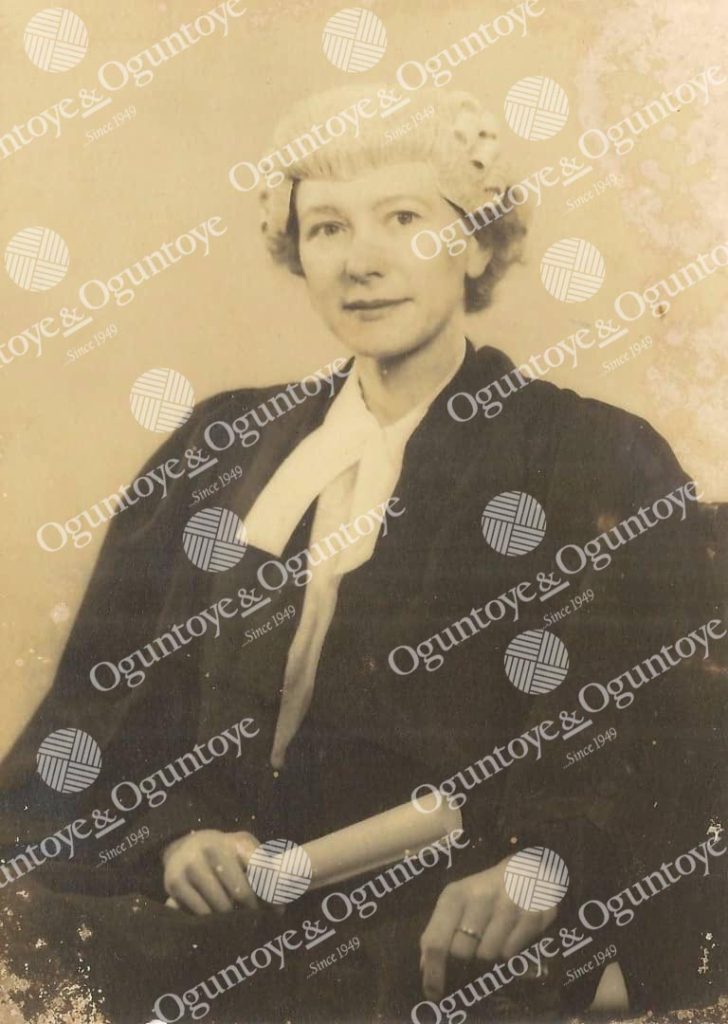 Justice Oguntoye served in different capacities and departments in the WAAF until one fateful day in the summer of 1946 when she met a very exciting Nigerian RAF navigator called David Ojo Abiodun Oguntoye at the Officers Mess in Bicester, England. They courted for about 5 months and got married in November 1946, while her husband was still at the Middle Temple studying law. She heeded his encouragement that she should also study law and shortly after the war; she enrolled for law at the Middle Temple Inns of Court. Today, the profile of Justice Oguntoye and her husband, Chief D.O.A Oguntoye is proudly hung in the gallery of the British Royal Air force Museum in recognition of their service as significant war veterans. Their profile at the RAF Museum is titled 'Love and Justice'. Prior to her marriage, she was Dulcie Ethel King, but her ingenious husband merged the meanings of the names 'Dulcie' and 'Ethel' into one name and added 'Adunola' to her names.
Upon her arrival in Nigeria, my lord Justice Oguntoye joined her husband at the law firm of Oguntoye & Oguntoye in Ibadan. They handled political matters and land cases. Their law firm had a retainer with the Action Group 'AG', one of the country's leading political parties at the time. In the late 1950s, she decided to join the public service at a time when it was difficult to serve if you were not an acknowledged Nigerian. Justice Oguntoye renounced the British citizenship and sacrificed the passport in 1961 after she applied for and was given full citizenship under the hand of the then Minister for Internal Affairs, Mallam Shehu Shagari (who later became President in 1979). She joined the Western Region Magistracy in the late 1950s. Justice Oguntoye later moved to Lagos in 1967 as Chief Magistrate. She served meritoriously in Ikeja and Igbosere. Justice Oguntoye served as Chief magistrate for Nine years and she was one of the founding members of the Magistrates Association of Nigeria and also the pioneer General-Secretary in 1970. She was appointed a Judge of the Lagos State High Court in 1976. Hence, Justice Oguntoye became the 1st woman on the Lagos State Bench and the 2nd woman to become a Judge in Nigeria after Justice Modupe Omo-Eboh who had been appointed a Judge in 1975 in the old Mid-Western region. While Justice Oguntoye was in Lagos, she handled many prominent cases and one of the highlights of her career was in 1978 when she was appointed the Chairman of the Federal Government Special Tribunal on National Orthopedic Hospital. She fearlessly discharged her duties and this attracted the admiration of the then head of state, General Olusegun Obasanjo who in recognition of her service to Nigeria awarded her national honour of Officer of the Federal Republic 'OFR' in 1979. Justice Oguntoye thus became the first woman judge to be awarded a national honour. In late 1978, and for personal reasons, she sought transfer to the newly created 'old' Oyo state. While in Oyo state, she served in Oyo, Ife, and Ibadan divisions of the High court of Oyo state. Justice Oguntoye finally retired from the bench in 1988. Mama Oguntoye is the Iyalode of Imesi-Ile, a chieftaincy title given to her in recognition of her love and sacrifice.
Justice Oguntoye was a family oriented matriarch and she dedicated her retirement years to the advancement of the Oguntoye family by spending time to nurture her grandchildren. After her husband passed in 1997, she concentrated on the family front and also ensured she finished her autobiography "Your Estranged Faces", which she published and later launched in 2009. In 2013, the Lagos state Judiciary led by the former Chief Judge, Justice Ayotunde Phillips held a 90th birthday party in her honour to celebrate her beautiful life.
She lived an exemplary life and until her death on 12th November 2018, she was surrounded by her children, grandchildren, and great grandchildren who replicated her unflinching love and loyalty to her late husband, her beloved family and her country, Nigeria. Justice Oguntoye was 95 years old.