Late Chief David Ojo Abiodun Oguntoye was born on January 1, 1914 at Imesi-Ile, Obokun Local Government, Osun. He began his elementary education in the Methodist school, Imesi-Ile and completed it in 1934 at Oshogbo Methodist School where he distinguished himself in various activities and was the only successful candidate in the 1934 Standard Six examination in Oshogbo. He had a brief stint teaching at his alma matter in 1935.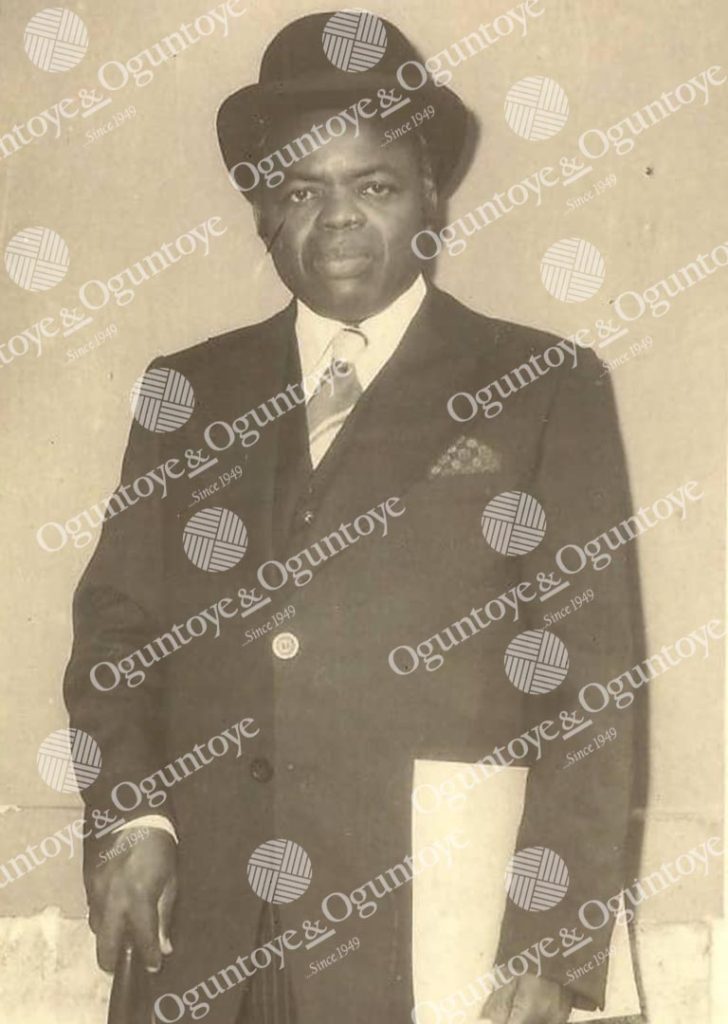 Late Chief's thirst for knowledge and education took him to the famous Wesley College Ibadan for a four-year training as Higher Elementary teacher. He distinguished himself at the College, winning, in his third year, the annual College prize in Mathematics. He was also the College organist and Librarian. Upon his qualification as a teacher, he proceeded to teach in Methodist Schools in Oshogbo and Osu where he later rose to become Headmaster. He was also Lay Preacher, Organist and Scout Master in these places.
In 1943, following the call of the Colonial Government, he joined the Royal Air Force (RAF) during World War II where he served in Europe and Canada as a qualified Navigator. It was during his stint that he met his wife Late Hon. Justice Dulcie Ethel Adunola Oguntoye (nee King) with whom he co-founded the Firm, who was also serving in the Women Auxiliary Air Force at the time. In 1946, Chief Oguntoye joined Chief Obafemi Awolowo and a few others to form Egbe Omo Oduduwa in England and this group culminated in one of the first nationalist political party called Action Group.
Late Chief Oguntoye's interest in Law and passion for Justice led him to enroll in the Middle Temple to study law. He again excelled and was called to the English Bar in November 1948. Upon his return to Nigeria in 1949, he pursued a brilliant career as a lawyer and set up the Firm in Partnership with his wife.
Late Chief's brilliance and understanding of Law was recognized and tapped into both in the Public and Private Sectors with roles ranging Legal Adviser of the then Action Group(AG) and the Great Nigeria People Party (GNPP) to a seat as a Regional Member of the Board of Directors of the Electricity Corporation of Nigeria (ECN) in 1957.
Late Chief Oguntoye first foray into politics was between 1954-56 when he served as Councilor representing Imesi-Ile at Kiriji Local Government Council. In September 1958, he was appointed a Grade A Customary Court Judge in the Western Region. He was repeatedly elected for eight years on an annual basis as the President of the Western Region Customary Courts Association between 1958-1965. He had a distinguished and meritorious service in Abeokuta, Ijebu-Ode, Ilesha and Ado-Ekiti until 1966 when he returned to Legal Practice in the firm of Oguntoye & Oguntoye. Chief D.O.A Oguntoye was a highly respected leader in Yoruba land and received his first Chieftaincy title, the Aare-Owa of Oke-Mesi in 1951. He later became the Tewogbade of Imesi-Ile and was promoted to Lejofi. In recognition of his exceptional bravery, he was conferred with a traditional title, the Legiri of Imesi-Ile in 1968 which made him the war Lord of Imesi-Ile. As a Traditional Title Holder, Chief rallied his Ijesha counterpart's resident in Ibadan with the aim of advancing education in Ijeshaland. This group later crystallized as Ijesha Union which he served for 10 years as the President. He remained a dedicated member till he passed away in 1997.
As a family man, Chief Oguntoye was a model, strict and dedicated to family ideals. He was committed to both family and kinsmen. In his legal career, Chief Oguntoye bestrode the landscape like a colossus. He passed on to glory, on 18th June 1997.